PLEASE JOIN US FOR WYSALL
VILLAGE BREAKFAST ON
This Sunday 20th November
(9:30 – 11:00)
In the village hall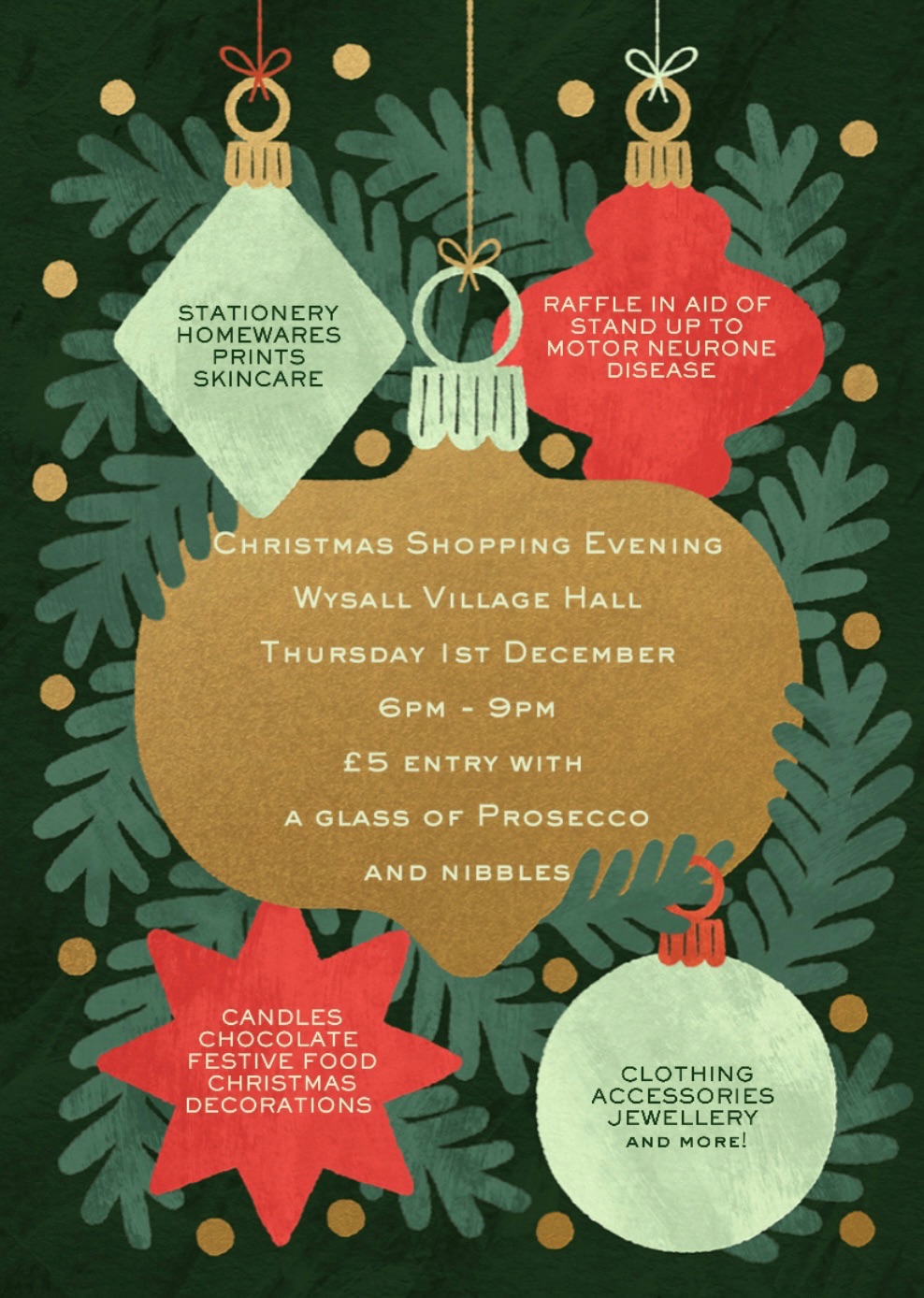 FUTURE EVENTS IN WYSALL and REQUEST
MUDDY FORKS is the Charity we supported at the Christmas Fair this last year (Horticulture and mental health in Nottinghamshire). A bit late in the day but we eventually handed over a cheque for £900 this week and the recipient was quite emotional about the donation. Thankyou for supporting us.
TOUR OF BRITAIN is once again coming through Wysall on 8th sept in the morning. Time to be finalised. As it is Thursday there will be less people around so we are going to offer coffee, tea and cakes outside the Village Hall. If you around please come and join the fun and cheer on the cyclists as they wizz through
WYSALL FILM CLUB will recommence in Sept. Films will be announced on Connections and on a flier. Bring your own wine.
WYSALL FOOD AND ARTISAN FAIR 12th year 18th Sept 11 to 4. Put it in your diary. Help needed on the day please.
BOOK EXCHANGE. The smart box in front of the Village Hall is a book EXCHANGE . Please if you bring a book, take a book.. Please do not leave bags of books outside. There are children's books and jigsaws THANKYOU
LIVE AND LOCAL
The Social Committee have been organising originally 'Village Ventures' and then it became 'Live and Local' for many years now, for the benefit of the village and we have had many successful music events, plays ,and comedies. The organisation offers lots of alternative events which villages can use to offer entertainment in their halls. It is subsidised by Rushcliffe. There is obviously a certain amount of organisation (picking the event, the date and corresponding with the organisers) Liz Smith has been doing it recently (thank you Liz) but she would like to pass it on to someone else but would happily help a new organiser to get started.
Is anyone in the village willing to take on this job please, otherwise we will lose the opportunity of putting on these events for your benefit. It is important that as many of us as possible, try and get involved in making the village events as varied as possible so we can continue our reputation of being e 'a very sociable village' and also unless 'we use it we will lose it'
If you are interested in taking this job on please let Liz or myself know and we can then sit down and explain what it involves. We are not expecting you to come onto the Social Committee (although yes please if you want to) but get involved in one meeting when the event is organised.
Hoping for a positive outcome!!
Chris French 07957167264 Liz Smith 07764436680
Wysall Social Committee