Wysall community breakfast
JOIN US FOR THE NEXT
VILLAGE BREAKFAST
This Sunday 23rd Feb
(9:30 – 11:00)
And every 4th Sunday in the month

LITTER PICKERS OF WYSALL UNITED Mark 11
We all have learnt especially over the last 2 years how therapeutic a walk in the countryside is for us. Also how lucky we all are to live in Wysall to be able to access this by a short walk.
So this is a chance to give it a timely spring clean
Does this picture brings back happy memories of February 2021 and the success achieved by a dedicated team in round about an hour. Can we this year exceed this haul!
I hope you agree that the verge and ditches are better so maybe and hopefully not. I hope to extend the reach of our litter collection depending how many volunteers we get. We will have the usual litter picks and sturdy black bags.
The date is Saturday, February 26th ,10.30 outside the Village Hall. Optimistically we will finish by Midday. Depending on the size of the army of volunteers, will determine how far our reach into the countryside our litter collection goes
Please let me know if you are keen to help by a quick text to 07773302766
More details will follow when I know who will be there – Omicron or its younger sibling yet to be born 'Pi 'permitting
Best Wishes Martin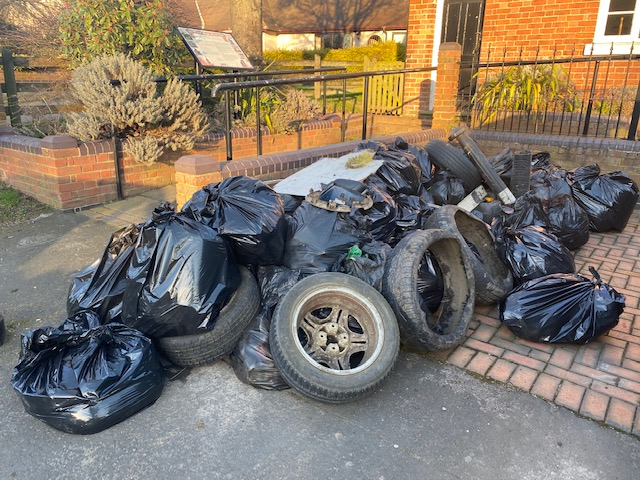 Table-top sale CANCELLED:
Unfortunately, due to a lack of ​interest we have decided to postpone the table-top sale planned for this Sunday 9th January. We will hope to run it in the Spring along with other fundraising activities to support the development of the Wysall village play area.