ENABLING THE ACCESSIBILITY MENU
The wysall.com accessibility menu can be enabled by clicking this icon which appears on the top right hand corner of the page. After triggering the accessibility menu, please wait a moment for the accessibility menu to load in its entirety.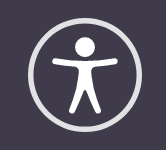 special events & LATEST NEWS in wysall...
With both regular weekly activities and a wide range of fabulous special events troughout the year, there's something to do in Wysall for everyone!
Full details of ALL village activities may be found on our WHAT'S ON page or just click on the 'Regular Activities in Wysall' icons further down the page for more information.
Wysall Community Breakfast - This Sunday - 26th March - Click here for more details
Wysall Lane Wymeswold Road Closure from 29th March for 3 days - see details below
Wysall Film Night - Saturday 1st April
Wysall Fun Football Kickabout - 9th April - Click here for more details
Read all about Wysall Book Exchange - Click here for more details
Please read and learn all about the public consultation on the Devolution Deal in the East Midlands.
Residents will be aware that Ukrainian evacuees have been living with hosts in Wysall and surrounding areas under the Homes for Ukraine scheme since the start of Putin's war a year ago. The extended group of 22 we have welcomed since April 2022 includes a number of children who have been happily settled into a number of local primary and secondary schools in the region. The adults continue to improve their English language to better prepare them for work and this of course is extremely restricted in an area that is so lacking in public transport.
Unfortunately, the transition of our Ukrainian guests to accommodation of their own is fraught with obstacles and we are struggling to find a way to 'move our guests on' to regain some independence of their own. For the last 6 weeks, we have submitted bids weekly for suitable accommodation on the social housing register that our mother and 8 year-old son are eligible for in Rushcliffe/Nottinghamshire, without any success. Currently Yevheniia and Illya are registered for social housing as 'Band 3 - Preventative (pre-homelessness). I have spoken to Housing Teams at neighbouring Charnwood and Leicestershire and am informed that there is a substantial under-provision of 'social housing' in the region against a backdrop of a wider national housing shortage.
We have therefore been investigating the private rental market for our Ukrainian guests. Unfortunately here, most of our Ukrainian guests are ineligible for the majority of properties due to failing the 'affordability test', which often demands an income in excess of 3 times the monthly rent. Failing the 'affordability test' results in immediate ineligibility or up to 12 months rental in advance as well as having a guarantor. The lady staying with us, in common with the group generally, is in receipt of universal credit and child support (total £624 with 1 child), which we understand can be considered as 'income' by 'some' landlords/agents but obviously falls well short of the '3 times monthly rental' requirement. Local Housing Allowance (equating to £548.51/pcm for a 2-bed property in Nottinghamshire) is available for people on low incomes but is only available retrospectively (after securing accommodation) and cannot be included as 'income'. Further assistance is available including Discretionary Housing Payments and help with upfront costs including the provision of 'white goods' but these again only apply when a property has been 'secured'. My previous naive calculations of affordability based on what could reasonably be budgeted for, clearly falls well short of the assurances required by agents and landlords in the private rental arena.
Options therefore remain extremely limited.
We are advised that social housing may only be made available if Yevheniia and Illya are reassigned to Band 1 on the social housing register (i.e. if we actually kick them out on the street!). IF this were to occur, we understand that temporary accommodation should be provided while alternative provision was being found. Quite apart from the fact that we are unprepared to evict a mother and son who have been living with us for a year, we are obviously concerned about removing an 8 year-old boy from a school in which he is now so settled into some other temporary arrangement before (if) something more permanent can be found.
For the private rental market to be an option, we need to find a suitable property (accessible to primary school and public transport), where either...
additional finances become available to cover 6-12 months' rental in advance.
a more lenient landlord who is willing to waive or be more flexible over the strict 'affordability' test.
If anybody feels they are able to help or has any contacts who may be able to help in terms of advice or provision, we would be most appreciative.
Regards
Tim Calnan
07909965065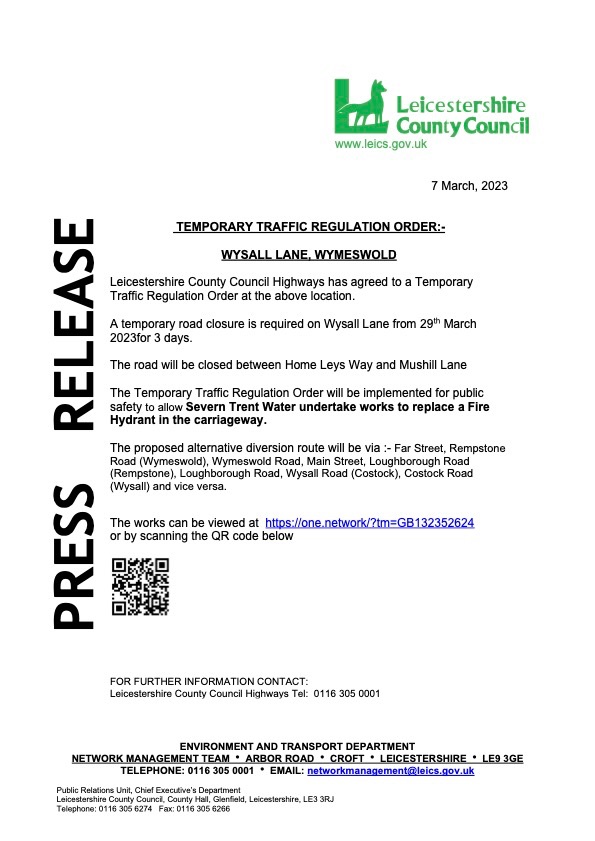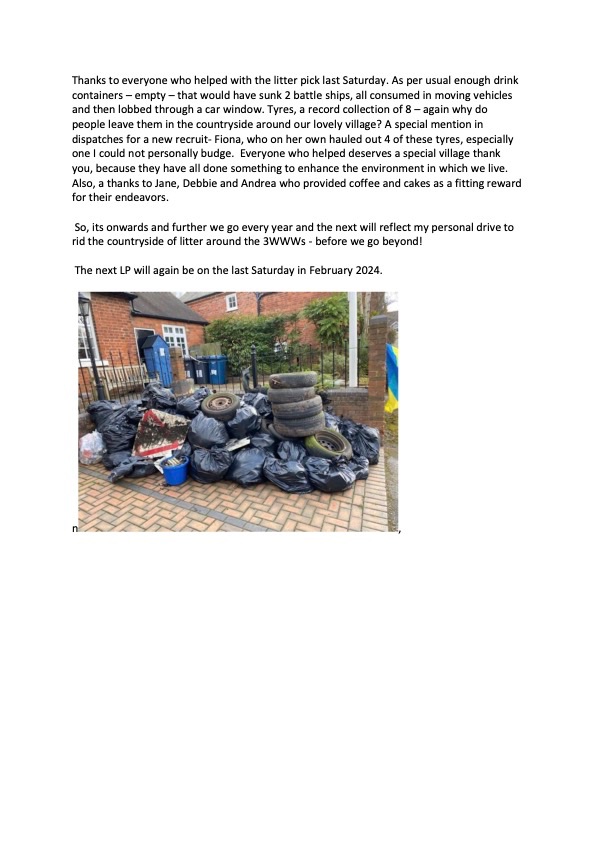 Nottingham County Council is asking local residents to inform them at 0115 977 4802 if they are aware of any public footpaths on arable land in the parish that are being obstructed by crops.
Senior Rights of Way Officer for the joint partnership, Jane Baines, is anxious to ensure that obstructions do not take place and says they will write to any farmers who do not heed requests to rectify the position where blockages are allowed to occur.
The Nottingham County Council says that where obstructions do occur farmers will be asked to remove them or the County Council will carry out the work and charge the farmer for it.
mobile library information
regular activities in wysall...
Watercolour Group 10am - 1200.
Flower Arranging with Jane 7pm - 9pm
Feel Good Flow Yoga with Donna - All levels welcome.
9.45am - 10.45am