ENABLING THE ACCESSIBILITY MENU
The wysall.com accessibility menu can be enabled by clicking this icon which appears on the top right hand corner of the page. After triggering the accessibility menu, please wait a moment for the accessibility menu to load in its entirety.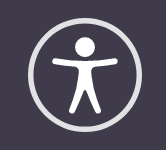 special events & LATEST NEWS in wysall...
With both regular weekly activities and a wide range of fabulous special events troughout the year, there's something to do in Wysall for everyone!
Full details of ALL village activities may be found on our WHAT'S ON page or just click on the 'Regular Activities in Wysall' icons further down the page for more information.
Wysall Christmas Shopping Evening - Thursday 1st December - Click here for full details
Read all about Wysall Book Exchange - Click here for more details
Please read and learn all about the public consultation on the Devolution Deal in the East Midlands.
🎄WYSALL CHRISTMAS SHOPPING EVENING 🎄
CHRISTMAS HAMPER DONATIONS
This year instead of having a Christmas Fair we are introducing a Christmas Shopping Evening. It has been increasingly difficult to round up enough volunteers to organise the fair and so we have decided to have a festive evening of shopping with stalls selling a range of items that include clothes, accessories, jewellery, candles, chocolates and more. Lots of good ideas for presents or a treat for yourself!
Our annual raffle will be drawn during the evening which will be held on Thursday December 1st in the village hall from 6-9pm. £5 entry includes a glass of fizz and nibbles
This year the proceeds from the raffle will be going to Stand Against MND which is a charity that was established by Sam Perkins who is the son a village resident and his wife Emma in 2019 with the aim of funding research into motor neurone disease and supporting patients in need of palliative care.
In the past the village has been very good about making donations to the hamper and we need your help again. We are looking for things like luxury biscuits and shortbread, port, wine, gin, whiskey, dates, cranberry sauce, chocolates, nuts, Christmas cake and pudding. In short, anything that will go to make up a a lovely Christmas Hamper.
Please can you drop off your donations to Chris French at the Old Post Office on Main Street by Monday the 28th of November
See you on the 1st of December!
Many thanks
The Wysall Social Committee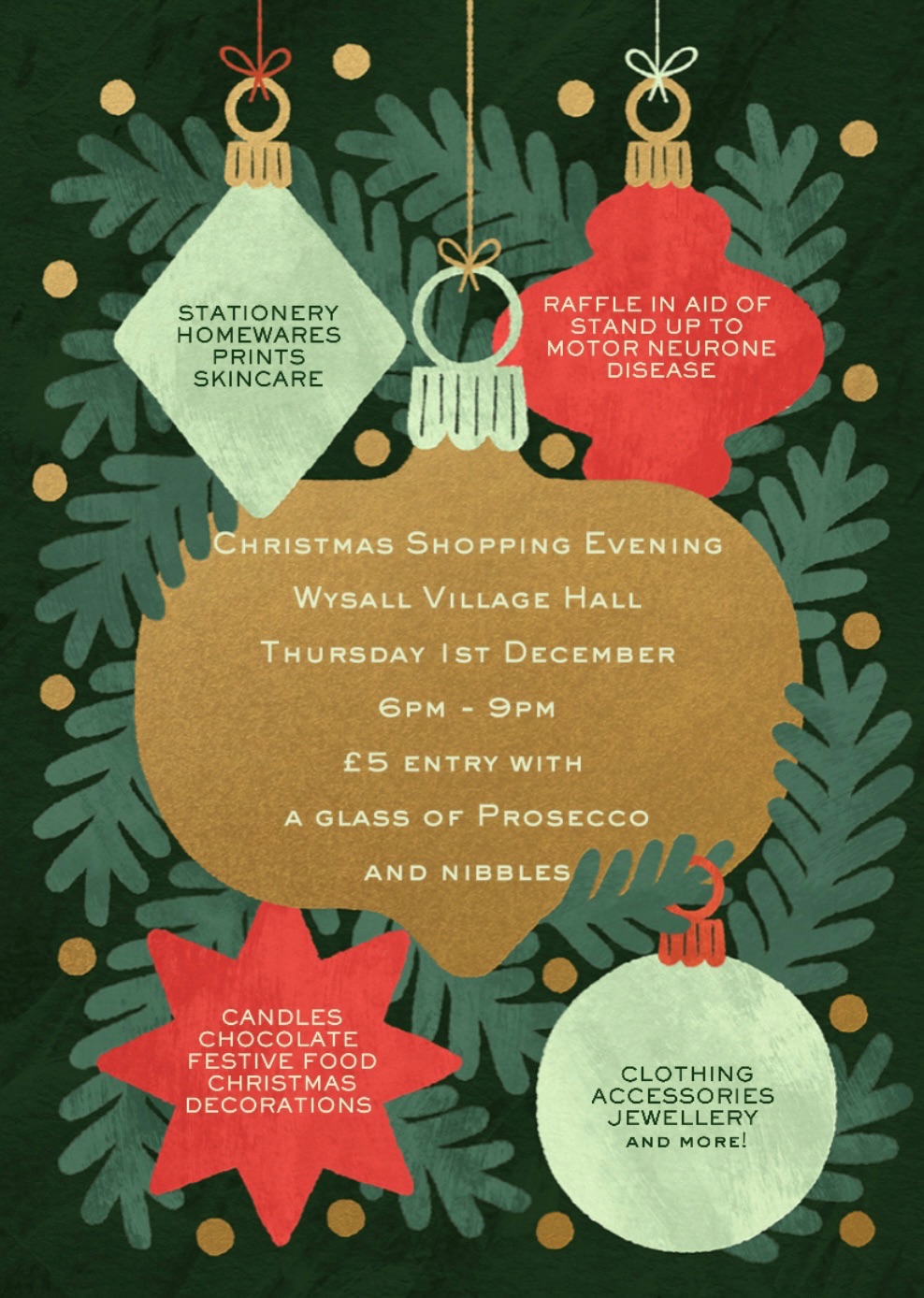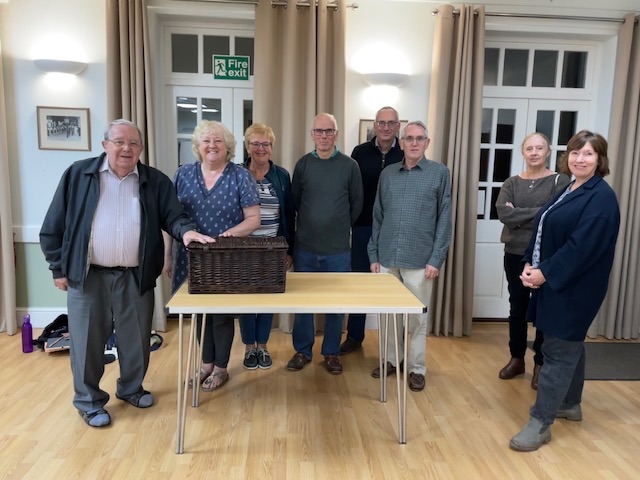 Wysall and Thorpe Parish Council presented their retiring clerk Mike Elliott, with a card and hamper at their September parish meeting. Mike had undertaken the role of parish clerk at Wysall for many years. The parish council thanked him for his service and wished him well for the future as he continues to clerk for a small number of parishes.
Nottingham County Council is asking local residents to inform them at 0115 977 4802 if they are aware of any public footpaths on arable land in the parish that are being obstructed by crops.
Senior Rights of Way Officer for the joint partnership, Jane Baines, is anxious to ensure that obstructions do not take place and says they will write to any farmers who do not heed requests to rectify the position where blockages are allowed to occur.
The Nottingham County Council says that where obstructions do occur farmers will be asked to remove them or the County Council will carry out the work and charge the farmer for it.
mobile library information
regular activities in wysall...
Watercolour Group 10am - 1200.
Flower Arranging with Jane 7pm - 9pm
Feel Good Flow Yoga with Donna - All levels welcome.
9.45am - 10.45am