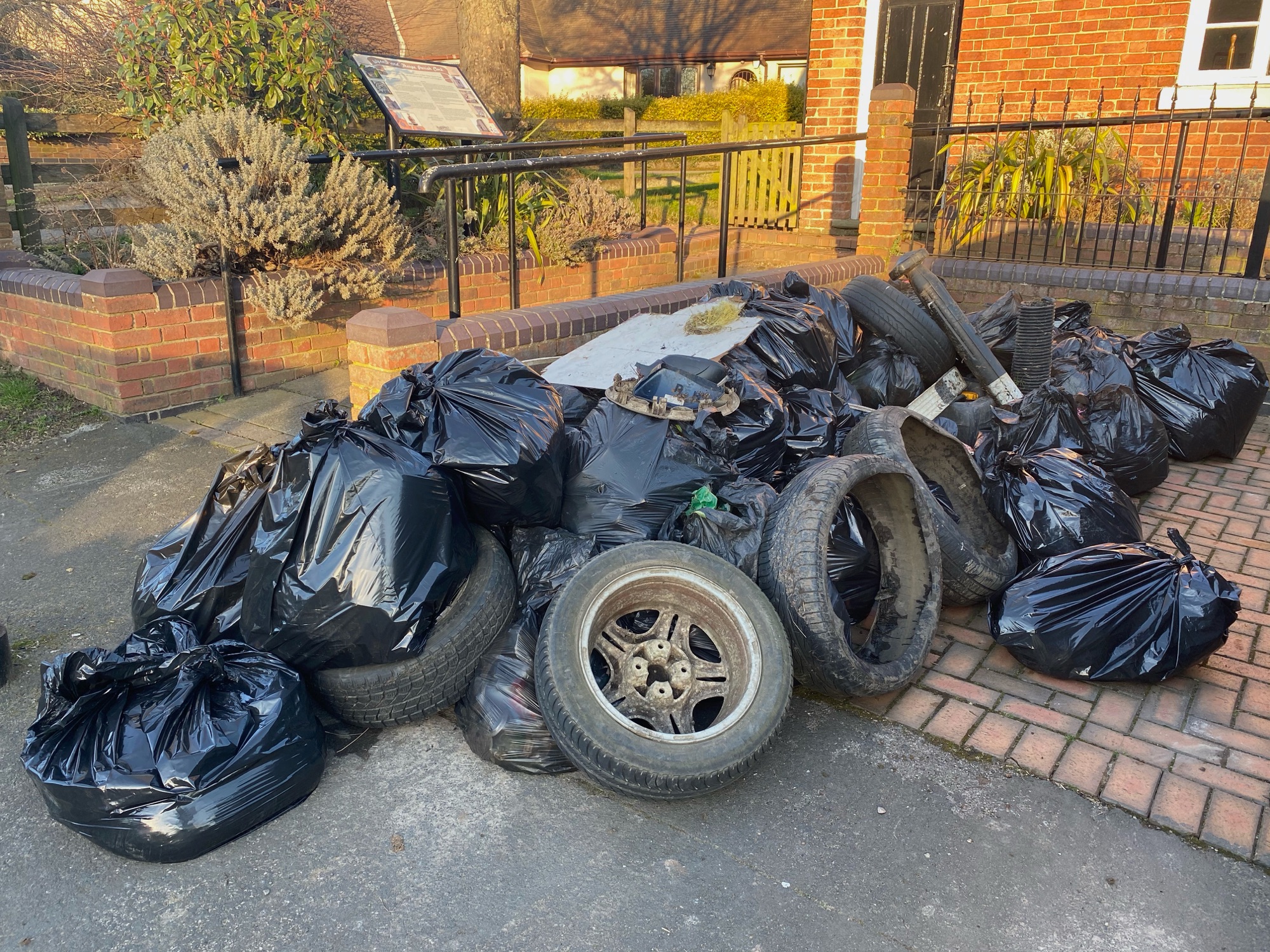 This is a photo of the pile of rubbish collected on Saturday 28th February 2021 which I think you may have seen. This included 8 tyres , an office chair , multiple large oil containers and enough bottles of booze to sink two battleships . A mini army of near 30 volunteers all socially distant from each other remaining in their bubbles retrieved this from deep ditches , high edges and green grass!
Best Wishes
Martin
COVID-19 Vaccination Toolkit
Edition 2 - Friday 15th January 2021
A message to our community leaders
Dear colleagues and community representatives,

NHS Nottingham and Nottinghamshire Clinical Commissioning Group (CCG) recognises the role you have in engaging with and supporting communities across Nottingham and Nottinghamshire. We would like to request your assistance, as community leaders, in sharing important messages regarding the COVID-19 vaccine with your community groups and networks. You may have received several different messages regarding the COVID-19 vaccine already. We have produced this toolkit to provide you and your communities with the most up-to-date information regarding the vaccine. Information within this toolkit can also be referred to when responding to enquiries you may receive from your community members. Please do share this toolkit and content widely.

We have received a number of enquiries about the booking process for vaccinations. The guidance remains that we are asking the public to wait until they have received their letter before contacting the NHS, their GP or local hospital hub – the letter will have full details of how to make an appointment.

We are aware that a booking link has been shared on social media and is being shared informally between people. We are asking the public not to use the link and to instead wait for their letter inviting them for an appointment. If we could ask for your support in not further sharing the link so that we can roll out vaccinations to priority groups as swiftly as possible and protect the booking lines for those who need them most.

Please do not call your GP or turn up at A&E or your doctor's surgery – the only way to get an appointment and the jab is to follow the instructions in the letter.

Kindly note that the information in this toolkit is accurate as of Friday 15th January 2021. This toolkit may be produced on a regular basis to keep you updated with new information. If you wish to unsubscribe from receiving this toolkit, you can do so by clicking the 'unsubscribe' button at the bottom of this page.

We thank you in advance for your assistance and support.

Kindest Regards,
NHS Nottingham and Nottinghamshire Clinical Commissioning GroupWhat is Coronavirus?Coronavirus (COVID-19) is an infectious disease. The main symptoms of COVID-19 include:
a high temperature – this means you feel hot to touch on your chest or back (you do not need to measure your temperature)
a new, continuous cough – this means coughing a lot for more than an hour, or 3 or more coughing episodes in 24 hours (if you usually have a cough, it may be worse than usual)
a loss or change to your sense of smell or taste – this means you've noticed you cannot smell or taste anything, or things smell or taste different to normal.
Most people with COVID-19 have at least one of these symptoms.
Anyone with symptoms of COVID-19 should book a test as soon as possible by calling 119 or via the online government portal. Tests must be booked in advance. You can read more about where to get a test across Nottingham and Nottinghamshire on the CCG website.
For the latest guidance on keeping yourself and others safe and the national lockdown please visit the Government website.

Information on the national lockdown can also be found on the Nottingham City Council and Nottinghamshire County Council websites.The COVID-19 VaccineThere are now three types of COVID-19 vaccinations that are currently approved for use in the UK:
Pfizer/BioNTech COVID-19 vaccine
COVID-19 Vaccine AstraZeneca
COVID-19 Vaccine Moderna
These vaccines have been given regulatory approval by the Medicines and Healthcare products Regulatory Agency (MHRA).

Two doses of the vaccine will be administered to ensure the best protection.
The new national medical advice is that the second dose of the vaccine remains effective when given up to 12 weeks after the first dose. Hence, the time at which you will receive the second dose of vaccine has changed from 21 days to up to 12 weeks following the first dose.

More information on these COVID-19 vaccines, guidance on who should not receive the vaccine and potential side effects can be accessed on this NHS website. This website also includes strong guidance for those with severe allergies and those who are of childbearing age, pregnant, planning a pregnancy or breastfeeding.

This will be the largest vaccination programme in the history of the NHS and you can really help us to deliver it to those that need it most by doing the following:
• please don't contact the NHS to seek a vaccine, we will contact you;
• when we do contact you, please attend your booked appointments;
• and please continue to follow all the guidance to control the virus and save lives.
To keep up-to-date with information regarding the vaccine in Nottingham and Nottinghamshire visit our NHS Nottingham and Nottinghamshire CCG website. Who should not receive the vaccine?
The vaccines have not yet been tested in pregnancy so until more information is available, those who are pregnant should not routinely have it. However, if a pregnant woman is at very high risk of catching COVID-19 or has a clinical condition that puts them at high risk of experiencing serious complications as a result of COVID-19, they may be able to receive the vaccine but should discuss receiving the vaccine with their doctor or nurse to ensure that the benefits outweigh any potential risks.

If you have had the first dose and then become pregnant you should delay the second dose until after the pregnancy is over (unless you are at high risk).

You should discuss having or completing the vaccination with your doctor or nurse.

The Joint Committee for Vaccinations and Immunisations (JCVI) have recommended that the vaccine can be received whilst breastfeeding.
You do not need to avoid pregnancy after the vaccination as the vaccine cannot give you or your baby COVID-19.
A guide with important information regarding the vaccine has been produced for those who are of child-bearing age, pregnant, planning a pregnancy or breastfeeding. It is essential that this is read before attending for a COVID-19 vaccine.
Those who have experienced severe allergic reactions in the past (anaphylaxis) need to make staff aware of this before they receive the vaccine. Those who have had serious allergic reactions to previous vaccines (including the first dose of the COVID-19 vaccination), some medicines, household products or cosmetics in the past should not receive the COVID-19 vaccination.

People who are suffering from a fever-type illness should also postpone having the vaccine until they have recovered. Vaccination should also be delayed until one month after a positive COVID test.

If you have received the flu vaccine it is recommended that there should be a gap of a week before receiving your COVID-19 vaccination. We would like to encourage those who are eligible but who have not received the flu vaccination to do so as soon as possible.

Find out more on allergies and who should not receive the COVID-19 vaccine here: Coronavirus (COVID-19) vaccine - NHS (www.nhs.uk)
You can report any suspected side effects of the COVID-19 vaccine you have received on the Coronavirus Yellow Card reporting site. If you are concerned about your health, please contact your GP, Pharmacist or NHS 111.
This guidance may be different in future with the development of other vaccines. Who receives the vaccine first?
The first priority for vaccination is care homes residents and staff, people over the age of 80 and frontline health and care workers.
The NHS will contact people in the priority groups when it is their turn to receive the vaccine.
Priority groups are based on the guidance from the Joint Committee for Vaccinations and Immunisations. This guidance includes people who are clinically extremely vulnerable.
We understand a lot of people want to be vaccinated and we would like to reassure you this will happen. Please be patient and wait to be contacted.

For further information on why you are being asked to wait for your COVID-19 vaccine, please read the information on the GOV.UK website.

A guide for adults has been produced to provide more information about the vaccine.Where can you receive the vaccine?
We have eight sites currently delivering the vaccination across Nottingham and Nottinghamshire. There are three hospital hubs located at Queens Medical Centre, City Hospital and King's Mill Hospital, which are vaccinating priority groups by appointment only.
Local vaccination services have also been launching across Nottingham and Nottinghamshire and include:
•Ashfield Health Village
•Cripps Health Centre
•King's Meadow Campus
•Gamston Community Hall
•Richard Herrod Centre in Carlton
Recipients of the vaccine will be called forward in priority order as set out by the Joint Committee for Vaccination and Immunisation (JCVI). The NHS will send letters to eligible people in due course and vaccines will be by appointment only. First priority at these centres are for those over the age of 80 and frontline health and social care workers.
Further sites are set to open across Nottingham and Nottinghamshire in the coming days and weeks.
Any new information on locations will be shared on our NHS Nottingham and Nottinghamshire CCG website. What happens on the day?When you arrive at the site to be vaccinated, you will need to ensure that you are wearing a face mask. Social distancing will also be in place.
Questions will be asked about your medical history and it is important that you inform staff if you are pregnant or if you have had a severe allergic reaction in the past.

The vaccine will be given as an injection into your upper arm by a trained professional and you will be asked to wait for 15 minutes after having your vaccination.
You will be given a record card with the date of your second vaccination appointment which you will need to keep safe.
According to Government guidelines, you should not attend a vaccine appointment if:
• you are self-isolating.
• waiting for a COVID-19 test.
• unsure if you are fit and well.
Vaccination should also be delayed until one month after a positive COVID test.

More information on what happens at your appointment can be accessed here: What happens at your appointment - NHS (www.nhs.uk)What happens after receiving your vaccination?Information has been produced to inform you of what you can expect following your vaccination including the next steps after your first vaccine, potential side effects and information on the protection received from the vaccination. You can access this information on the Government Website. Case Study
John Waplington, an 82-year-old former miner from Arnold has received the Covid-19 vaccination at the Richard Herrod Centre in Carlton which opened on Tuesday 6th January 2021.
The site will support the roll out of the national vaccination programme with further sites set to open across Nottingham and Nottinghamshire in the coming days and weeks.
John who worked on the former Gedling Colliery has been shielding due to having respiratory issues caused from his time working in the pit.
John said: "I am absolutely ecstatic. This is life changing for me, I have been living with this virus over my head and with my health issues, it has been a worry. I am very grateful to be vaccinated and hope that we can get back to normal as soon as possible."

To read more, click here.
Frequently Asked Questions (FAQs)Visit our website for Frequently Asked Questions (FAQs) with further information.Accessible InformationInformation regarding the COVID-19 vaccine can be accessed in an easy to read format.

A collection of videos are available on the COVID-19 vaccine in Gujarati, Sylheti, Tamil, Urdu and Punjabi.

More information regarding the COVID-19 vaccine is currently being produced in different languages and formats. These will be shared in further editions of this toolkit, once they are ready. Other key resourcesThe British Islamic Medical Association position on the COVID-19 vaccinations
After consulting with experts, the British Islamic Medical Association (BIMA) has recommended the Pfizer/BioNTech and the AstraZeneca COVID-19 vaccinations for eligible individuals in the Muslim community for protection against COVID-19 when used according to MHRA authorisation. Read their full statements on the Pfizer/BioNTech COVID-19 vaccine and the COVID-19 Vaccine AstraZeneca.

Opportunities to support the COVID-19 vaccination programme
If you or your organisation are able to support the COVID-19 vaccination programme by sharing important messages with diverse and more vulnerable groups, please email [email protected]

Paid opportunities to assist with the COVID-19 vaccination programme can be accessed on the Sherwood Forest Hospitals Website.
If you are under the age of 70 and in good health, you can express interest in volunteering at one of our local vaccination services by calling 01636 610773.


CCG Engagement Bulletin
NHS Nottingham and Nottinghamshire CCG Engagement Team produce a monthly COVID-19 Summary Bulletin. A copy of the December version of the bulletin can be accessed here which covers information on COVID-19, engagement opportunities, community information and important updates from the CCG. To sign up to this COVID-19 Summary Bulletin, please email [email protected]

For all other enquiries, please email [email protected]
Give a Laptop Appeal
Last summer local BBC radio stations helped members of the public donate thousands of old laptops and tablets for schoolchildren to use across England. For those pupils, who were sharing phones at home while learning in lockdown, it made a huge difference.
There are lots of pupils that still require some help. If you have any spare laptops or tablets, please look at the following to see where items can be donated:
https://www.bbc.co.uk/programmes/articles/5SqHJMTKZx5sYhlltXJvB1Q/give-a-laptop
Some charities can collect, wipe and share the laptops all in one; some can help take your devices off your hands to fix them ready for distribution; some are collecting donations to help fund devices for pupils; some are local to specific areas and some are nationwide, both across England and the UK.
If you would prefer to donate direct to a school, a list of Nottinghamshire schools can be found here: https://www.compare-school-performance.service.gov.uk/schools-by-type?step=default&table=schools&region=891&la-name=nottinghamshire&geographic=la&for=primary
If you contact them direct, they may have someone working there that can wipe your item clean.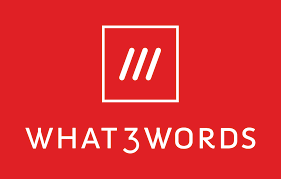 We are encouraging our community to download the what3words app on their phones in case they need to call 999.
Every 3m square has been assigned 3 words so that it makes it easier for services like the police or ambulance etc to find you as they can pick this up from your phone call.
The app is totally free to download and use, you can download it on iOS or Android here.
You can find a full list of those services that accept what3words here: https://what3words.com/news/emergency/three-words-for-a-faster-emergency-response. Your community could also use what3words to report incidents with organisations like National Grid, Network Rail and the Environmental Agency: https://what3words.com/report-incident-locations-efficiently.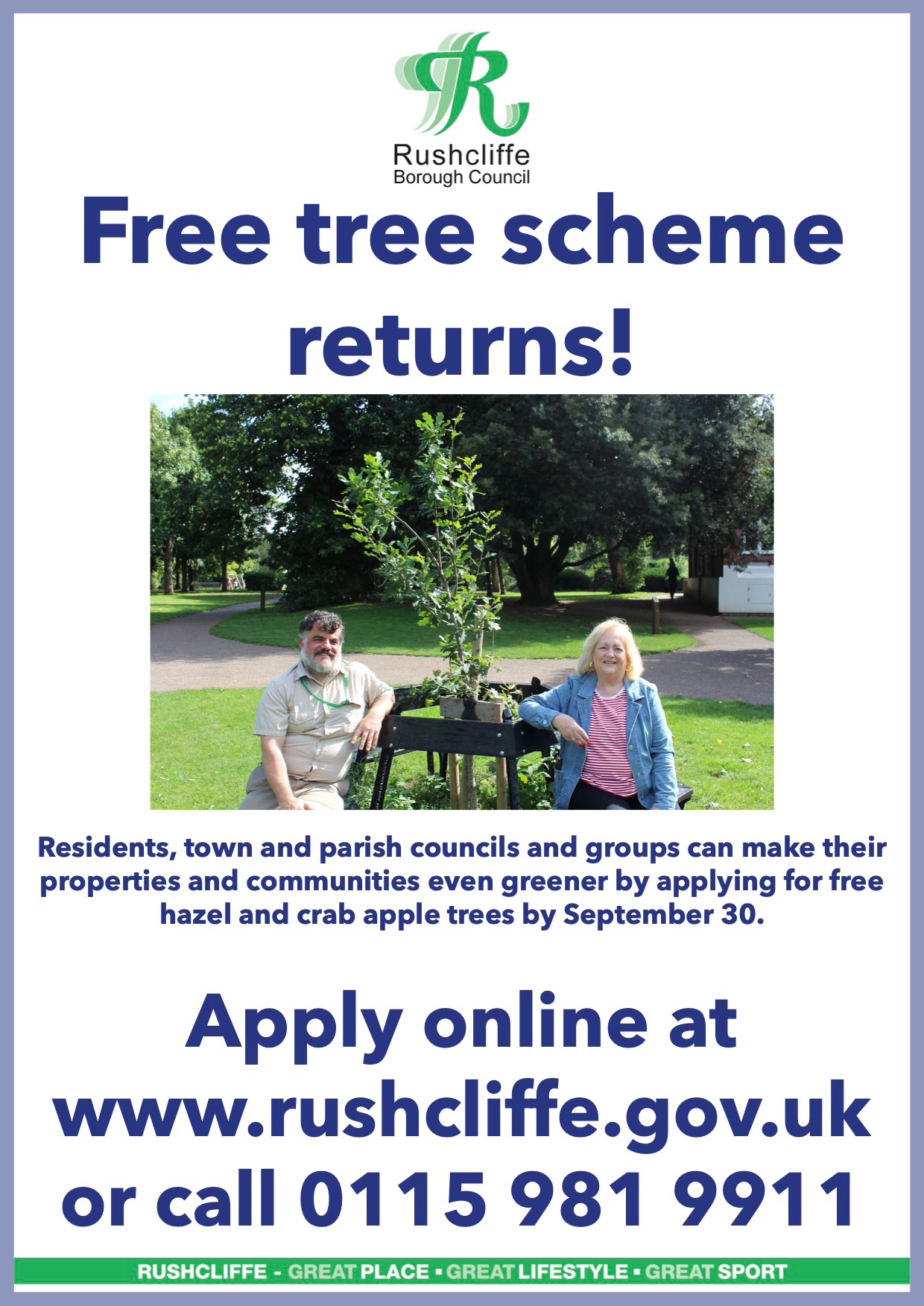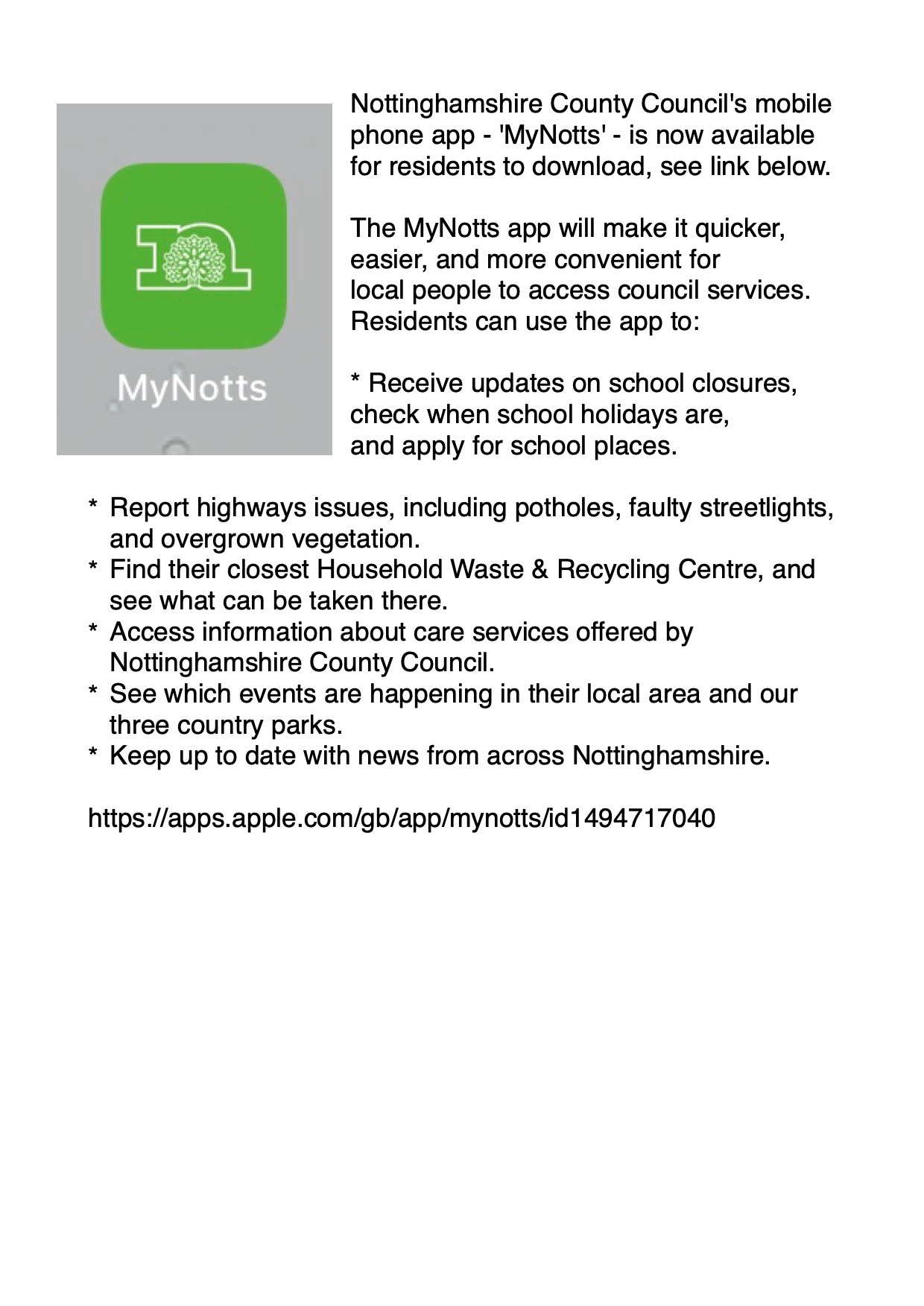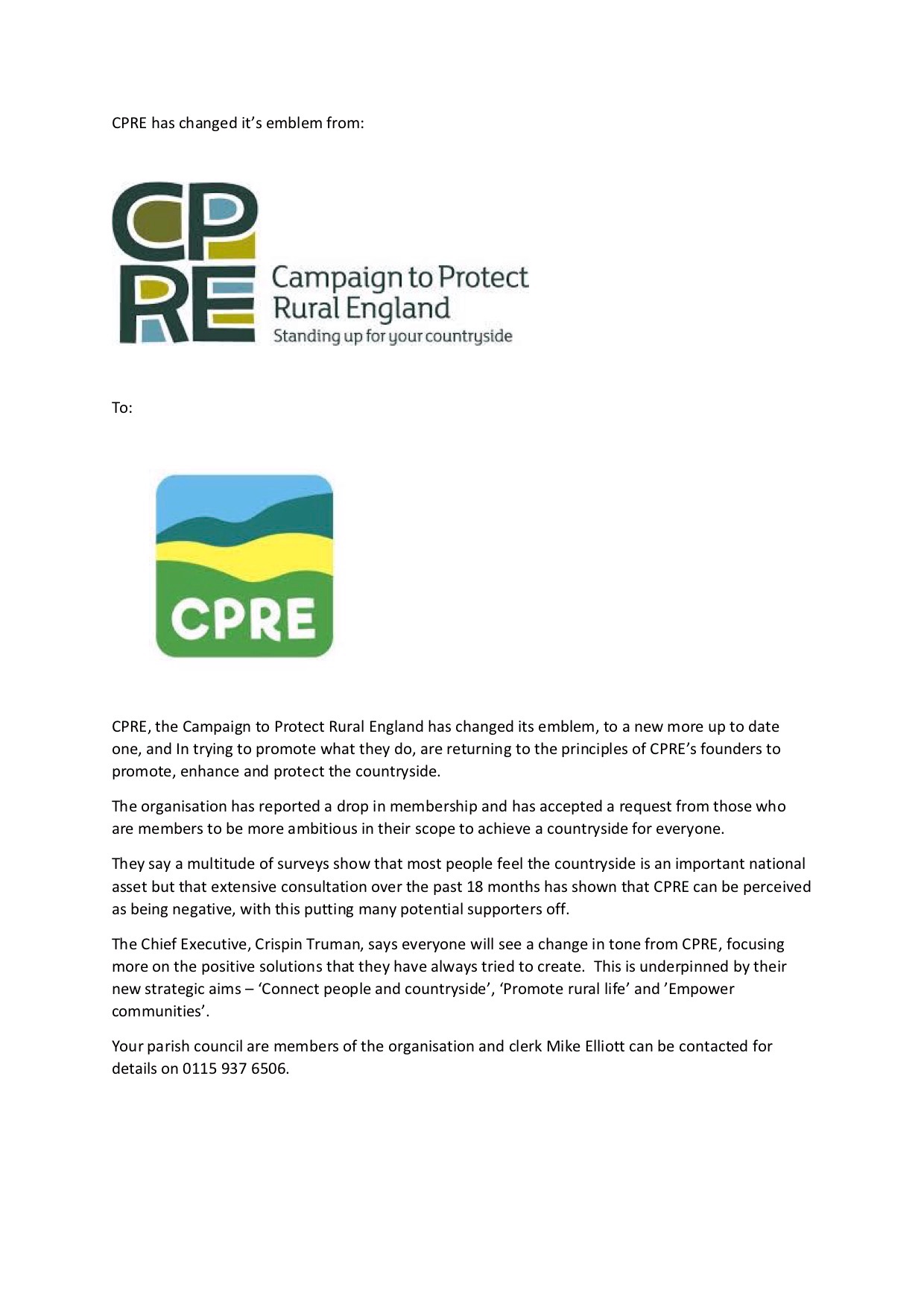 WINNERS OF THE BEST KEPT VILLAGE
We are delighted to announce that Wysall is the Winner of the Annual Trophy for The Best Kept Village in Nottinghamshire for 2018 in the 300-1,000 population category.
Thirty six villages originally entered the first round of the competition, organised by the Campaign to Protect Rural England and sponsored by Wilkinsons. Sixteen villages were then selected for the second round which was divided into four sections depending on population size.
Well done everyone for making such an effort and taking pride in Wysall!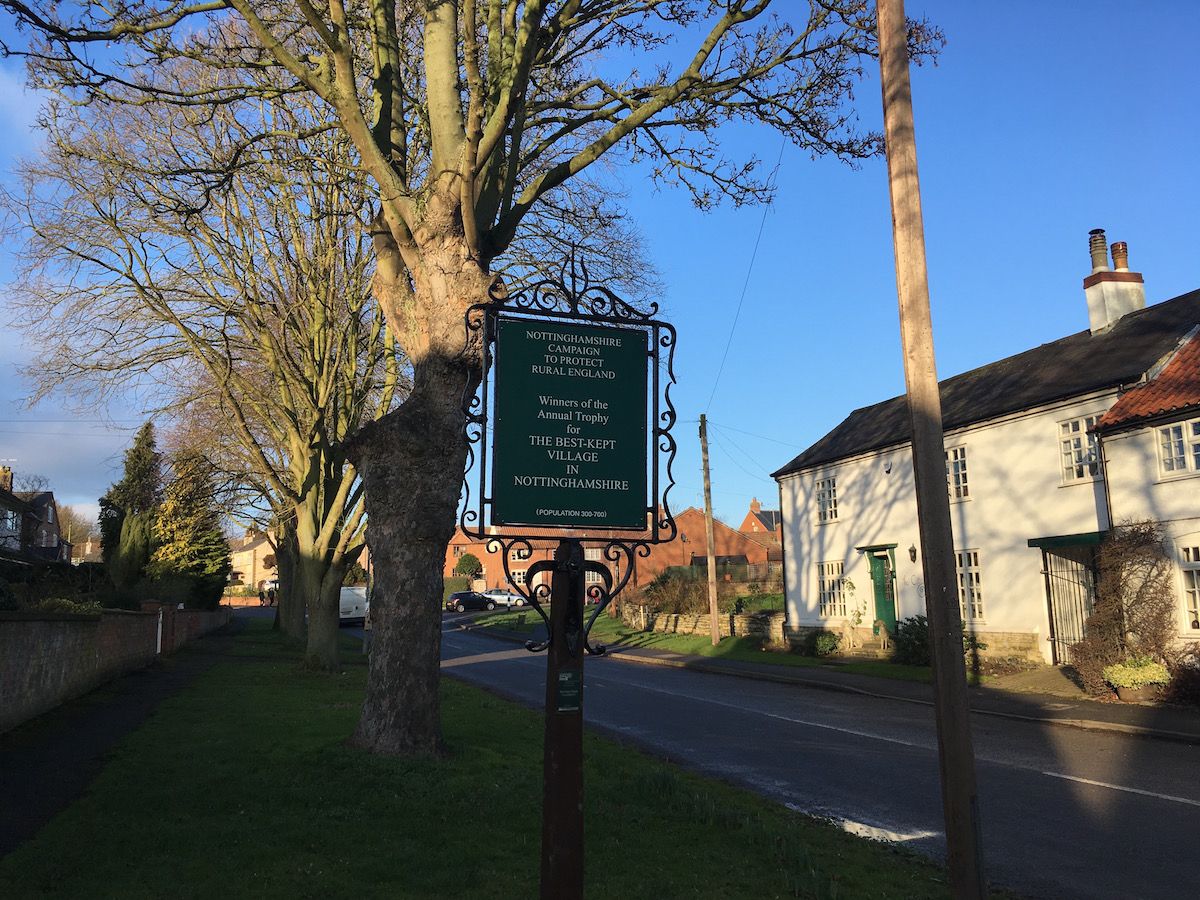 Orders are now being taken at Riseholme Feeds Country Store for locally produced Kerry's Fresh seasonal Fruit, Vegetable & Salad Boxes.
Orders are taken no later than 5pm every Thursday at Riseholme Feeds for collection on the following Saturday.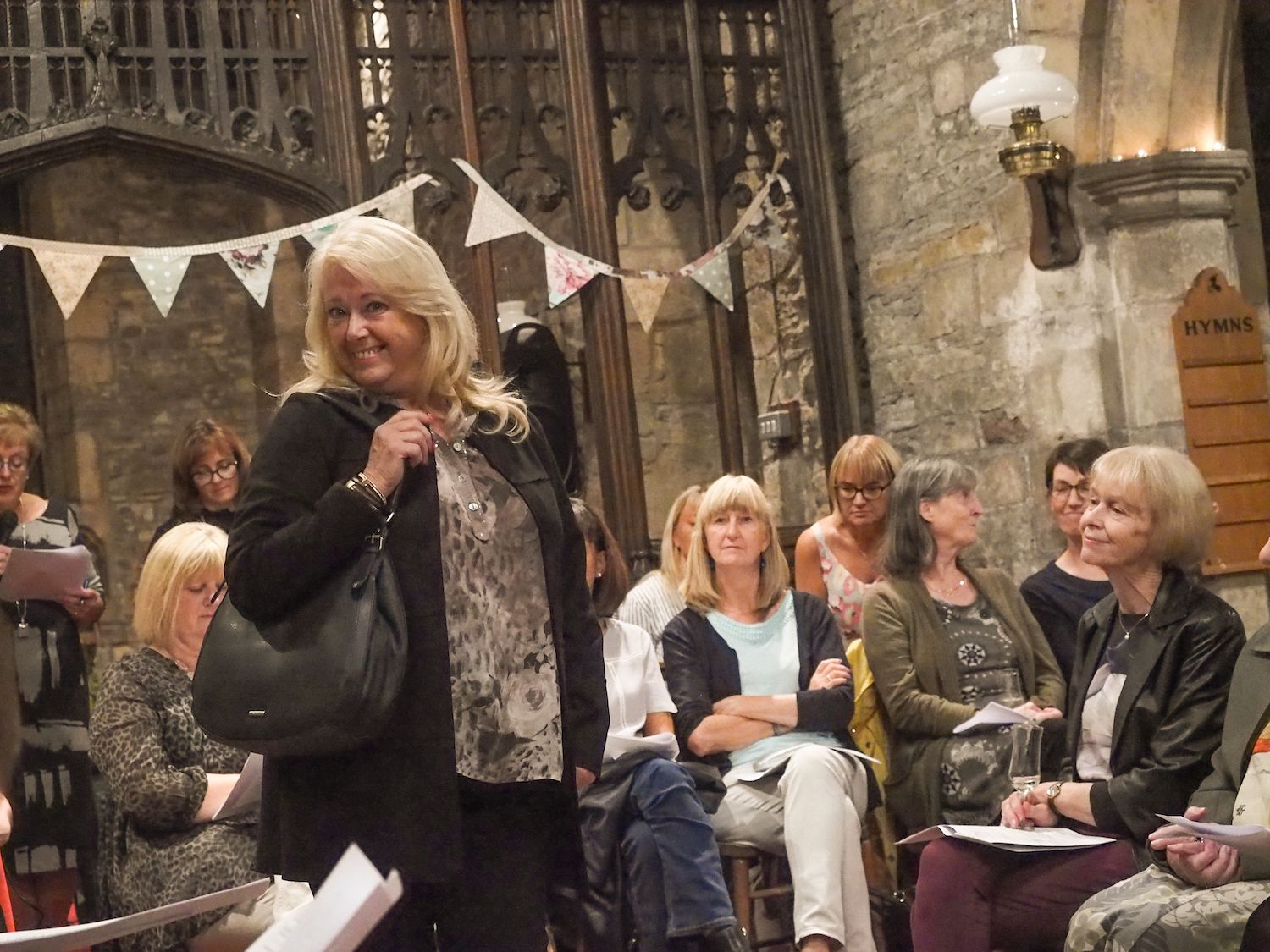 Holy Trinity Church was the perfect setting for The Little Boutique's Autumn Fashion Show. A full house enjoyed delicious canapés and a glass or two of fizz whilst watching local ladies modelling the latest collections with style!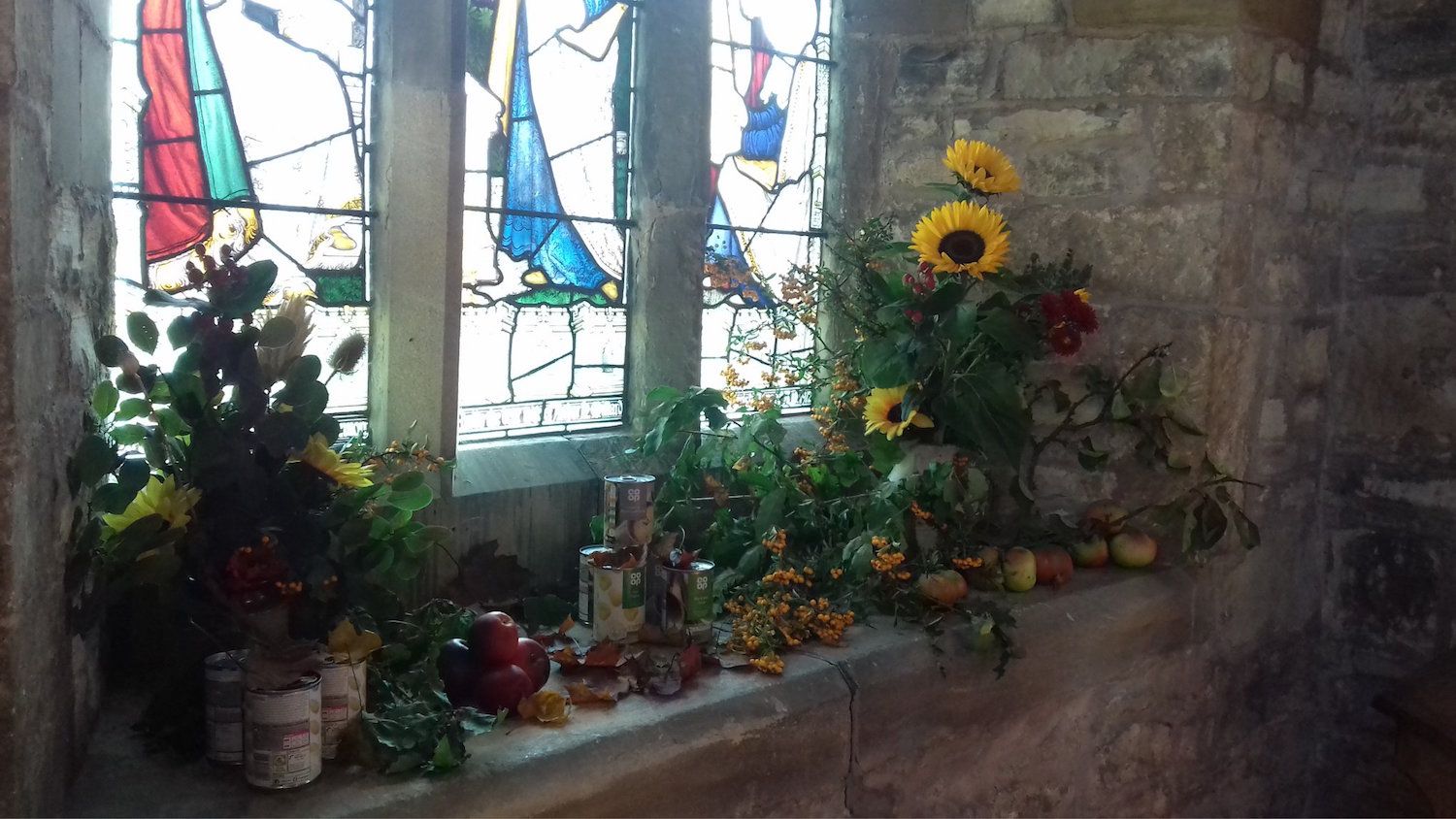 harvest festival at holy trinity...
Our beautiful Church for Harvest Festival. Thank you for all your donations which will go to the Friary in West Bridgford. More images can be seen on the Church page.
What a great event the Tour of Britain was! The village looked absolutely fantastic decorated with bikes and bunting; the atmosphere and support for the race were amazing! A huge thank you to everyone for your efforts and enthusiasm.